How To Buy Ethereum (ETH) In Canada
History of Ethereum
How To Buy Ethereum in Canada…
Bitcoin went live in 2009 and after four years, Vitalik Buterin, a resident of Toronto, Canada, came up with the idea of Ethereum. He was just 19 years old at the time when he described his project in his whitepaper. The Ethereum whitepaper proposed Ethereum to be a world computer. Anyone would be able to run any application on it.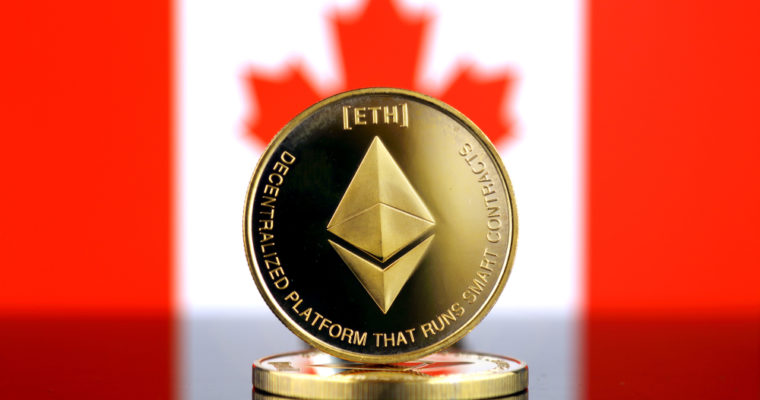 Ethereum is the second-largest cryptocurrency in the world by market capitalisation. Believe it or not, Ethereum was found in Toronto, Canada. It quickly gained popularity in 2016 and 2017 due to its initial promise. It powers the Ethereum blockchain that is basically a powerful smart contracts platform. As such, it acts as a foundation for many decentralized apps (dApps).
In 2014, Buterin along with other members co-founded Ethereum. They decided to finance the development of this blockchain via an ICO (Initial Coin Offering). The ICO was a hit and they collected over $18 million USD worth of bitcoins at the time.
In 2015, the Ethereum blockchain officially went live. It was also based on a proof of work mechanism. Miners confirm transactions on the blockchain and are rewarded Ether for doing so.
The Differences Between Ethereum & Bitcoin
There are many differences between Ethereum & Bitcoin. The following are some of the main ones:
– Bitcoin has a fixed supply of 21 million bitcoins. However, Ethereum doesn't have a maximum limit yet.
– While bitcoin is just a cryptocurrency, Ethereum is much more. It's a smart contracts platform that developers can use to build dApps. The Ether token powers this blockchain.
– Ethereum has faster transactions times than bitcoin. This is because the block time is set to twelve seconds as compared to bitcoin's 10 minutes.
– Ethereum was using proof of work mechanism (PoW) since the beginning but is now switching to proof of stake (PoS). Bitcoin has been using PoW and will continue to use it in the future.
– Bitcoin has a concept called halving where the supply gets cut in half every four years. Ethereum doesn't have any halvings and produces the same amount of Ether each year.
How To Buy Ethereum In Canada
It is quite easy to buy Ethereum in Canada. You just need to search for a Bitcoin ATM nearest me. Locate that Bitcoin ATM location and buy Ethereum!
1. Get a trusted Ethereum wallet. (It can be hardware or software wallet)
2. Find the nearest bitcoin ATM
3. Enter the amount you want to buy
3. Scan your Ethereum address' QR code.
4. Pay for your Ethereum
5. Confirm the amount on the screen and confirm the transaction.
6. Your Ethereum arrives in your wallet!
How To Trade Ethereum in Canada
Trading cryptocurrencies is really easy as the markets are open 24 X 7. Ethereum can be traded on centralized as well as decentralized exchanges. You just need to register on a trusted and secure platform.
How Do I Store Ethereum?
Cryptocurrencies can be stored in a multitude of ways. The same goes for Ethereum as well. There are no "official" methods of storage that the Ethereum Foundation promotes. However, there are many trusted and secure wallets you can use. There are hardware, software and even web-based wallets you can use to store your Ethereum.
You need to remember that you should choose any wallet based on your needs. Also, it is wise to store your private information (like private keys) in multiple locations. This will ensure that you never lose access to your Ethereum or other cryptocurrencies.
The following is a list of wallets to store Ethereum:
Hardware Wallets
Hardware wallets are little thumb drive-type devices that can be used to store cryptos. They can be easily carried with you also. These have become the most secure way to store your cryptos as they are always offline. That's why they are also known as cold storage.
1. Ledger
Ledger is a really safe and secure hardware wallet that you can use to store multiple cryptocurrencies including Ethereum.
It comes with a desktop and a mobile app that you can use to track your portfolio.
2. Trezor
Trezor is another very popular hardware wallet. Like Ledger, it can be used to store multiple cryptocurrencies.
3. Keepkey
Keepkey is a relatively new entrant in this space. However, it has built trust for its hardware wallet.
Software Wallets
Software wallets are something that most are already familiar with. We have all used them with fiat currencies. Similarly, many companies have built software wallets to store cryptos as well. They provide a greater level of convenience but might not be as secure as hardware wallets. As always, you should do what works best for you.
1. imToken
– iOS, Android. Longest running mobile solution for Ethereum.
2. Trust Wallet
– iOS, Android. Also has dApp browser.
3. WallETH
– Android, Open Source
4. Parity Signer
– It turns your old phone into a hardware wallet and is very safe.
5. Ambo
– iOS
Is Ethereum Risky?
Cryptocurrencies, in general, are quite risky as the market is very volatile. This is because the market is still new and there are not many participants like the stock market. Therefore, Ethereum is extremely volatile as well.
Its value can increase or decrease drastically. Therefore, people generally like to invest in Ethereum rather than use it to buy or sell products or services. What many people have found is that holding long-term yields the maximum returns. But you should do your own research and do what works best for you.
Is Ethereum Legal In Canada?
Canadian regulators have made laws and released guidelines about cryptocurrencies. They state that cryptocurrencies like bitcoin, ethereum and others are totally legal in Canada. You can trade them without any worries whatsoever.
Bitcoin ATMs are now offering Ethereum.
How To Buy Ethereum (ETH) In Canada
What's your reaction?
0
COOL
0
WTF
0
LOVE
0
LOL